Online 300 Hour Yoga Teacher Training
Take your teaching to the next level. You have already established a foundation, now go where you are not, transcend where you are. This course is designed for intermediate and advanced practitioners. It will help take your teaching to a more powerful and in-depth level. Open greater opportunities for your teaching as well as deepen your understanding and practice of Yoga as a way of life. Our trainings are considered by many as the most comprehensive Yoga Teacher Training in the world.
During these times of a huge shift in how humanity functions, yoga as a personal practice is keeping and bringing humans to their true essence and wholeness, prepared to be fully adaptable. Sattva Yoga Academy graduates and teachers spread all over the globe are community leaders in their locations, leading from love and compassion in their respective fields.
Sattva Yoga Academy is offering our Online 300 hour Yoga Teacher Training. You asked, we listened.

.
Eligibility
For Level 300 Hour Yoga Teacher Training, a 200 Hour Yoga certificate from Sattva Yoga Academy or any other Yoga Alliance approved yoga school is required.
Training Begins: 01 June to 12 July 2023
COMPLETE THE COURSE AT YOUR OWN PACE OVER 300 HOURS OF PRERECORDED SESSIONS ONLINE
WEEKLY LIVE Q&A SESSIONS WITH ANANDJI AND SATTVA MASTER TEACHERS
WEEKLY LIVE GROUP PRACTICE TEACHING SESSIONS WITH SATTVA MENTORS
The Course contents will be available on the online platform until 31st of December 2023.
What You Will Receive
Weekly Live Q&A
Access to timeless Yog-Vedantic wisdom, straight from the source in the Himalayas.
Learn more about the transformative yoga practices of Sattva Yoga, an integrated approach.
Course Content and prerecorded Training Sessions will be added to the online platform for more than 6 weeks at the rate of 5-6 hours per day.
Enlivened Worldwide Sangha with a Vibrant Community
Continuing expansion within the Sattva Yoga teachings
Access the weekly online Mentor Groups based on your time zone
Opening Ceremony with Havan – A Sacred Ceremony
Breakdowns led by Sattva Master Teachers
Hatha, Kriya, Pranayama, Mantra breakdowns led by Sattva Master Teachers
Prerecorded sessions are uploaded to the online platform
All live Q&A sessions are recorded and uploaded to the online platform listen and re-listen to all lessons
Sattva Yoga 300 Hour Yoga Teacher Training Rishikesh class sessions on Meditation, Raja Yoga, Mantra, Chanting, Sacred Rituals, Pranayama, Breathwork, Kriya Yoga, Mudras, Tantra, Hatha Yoga, Yin Yoga, Laya, Sound Healing, and much more, all stemming from the Yog-Vedantic Tradition.
Small Group Practice Teaching sessions to accommodate your time zone with mentorship by Sattva Yoga Academy Master Teachers
Manuals to support all the 300 hour YTT topics including Supreme Wisdom, Meditation, Energetic Body Studies, Asanas, Mantra, Kriyas, Pranayama.
This training is certified by the Yoga Alliance. After completion of this course, you will be awarded a 300 Hour RYT certificate from Sattva Yoga to enable you to apply to Yoga Alliance.
Yoga Practice
Puja Booklet
Special Bonuses If You Take Online 300 Hour Yoga Teacher Training
This Course Is For You If
You want to learn from the source.
You are interested in getting authentic, pure teachings without dilution.
You are ready to get the gold standard of training available at Sattva Yoga Academy, the most premium institute in the Himalayas.
You are someone who is willing to upgrade your life, whether you go on to teach or not.
You want to deepen your practice.
You are looking to radically shift your life.
You are ready to embrace teachings presented in a contemporary, integrated manner.
You want to access teachings that are intellectually deep, profound and also spiritually enlivening.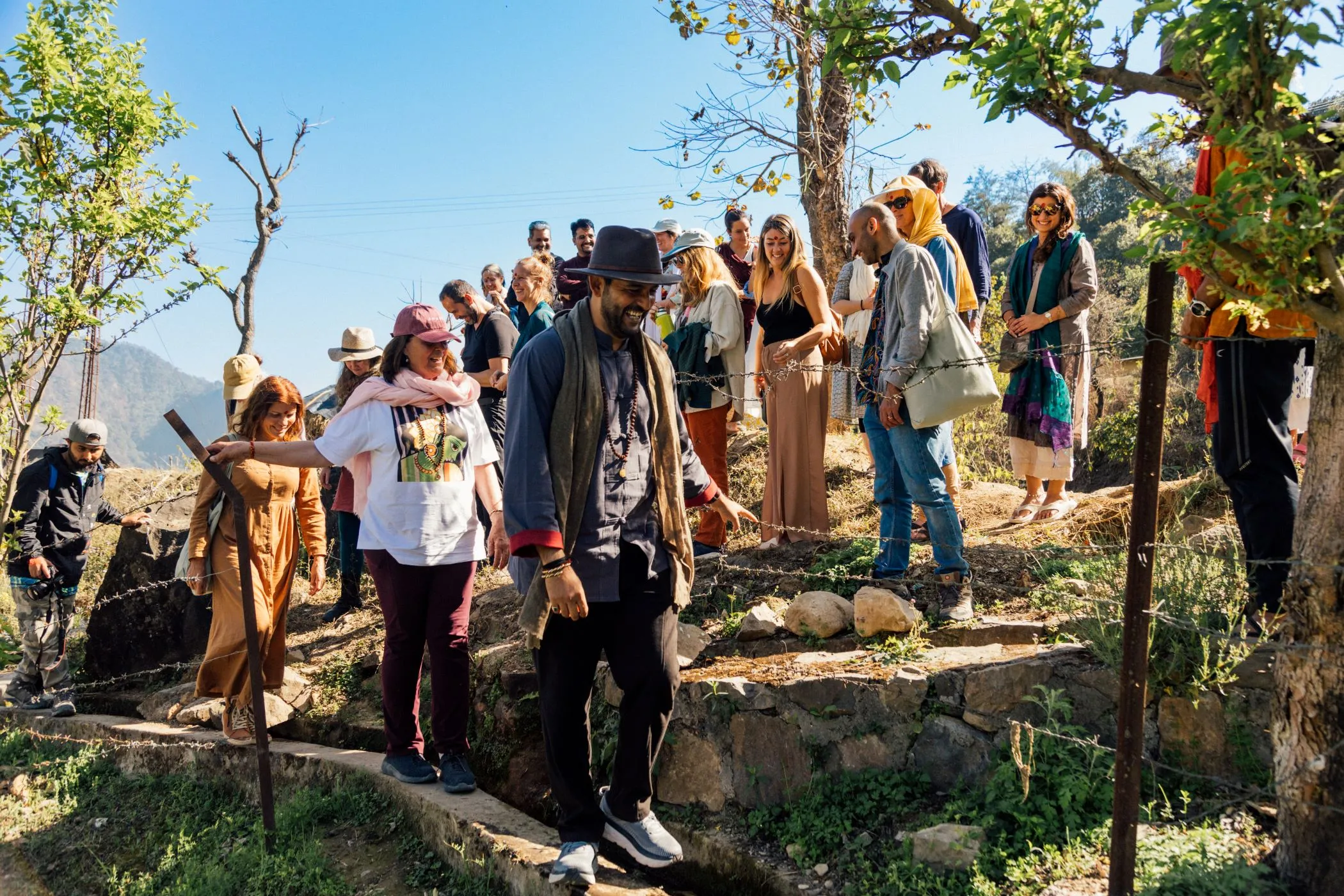 You want to access teachings which will open your heart and simultaneously expand your mind.
You are sincerely interested in going deep and transforming your life.
You are ready to transcend your anxiety.
You want to be a part of a Sangha, a live, vibrant global community of like-minded people.
You are ready to really use these times in an evolutionary manner.
You are ready to get out of the waiting room and start gaining access to a life of fulfillment.
You are ready to go beyond with a transformative training that will allow you to be so much more than just a physical instructor
WHAT YOU WILL LEARN
1) Advanced Techniques and Practices of the Sattva Integrated Practice of Yoga – 70 hours
Advanced Hatha Asanas, Kundalini and Tantra Kriyas

How to blend and work with 7 distinct styles of Yoga (7 Sattva Aspects) and merge them into one organic whole.

Advanced meditation practices

How to use the techniques for healing and transformation of body, mind, and spirit

In-depth look at the relationship of the 5 layers of the body and the effect of the techniques on each

Purpose, benefits, contra-indications of all techniques and how to use to practice for the ultimate aim of Yoga

Learn to class sequences (practice teaching mixed level classes and advanced classes
2) Basic Sanskrit and Advanced Mantra practice – 12 hours
Dive deep into advanced mantra practice

Learn how to incorporate Naad in the classes to give a deeper experience to your students
3) Teaching Methodology – 50 hours
The Sattva Yoga © teaching method

The 5 principles of teaching and 7 Aspects (7 distinct yogic traditions and their techniques)

Adjustments and assists

The art of sequencing, energetics of assists and vinyasa krama

Ethics of teaching yoga, including the types of teachers and students

Teaching Advanced Kundalini and Sattva Tantra Kriyas.

Studying the transformative effects of the practices

Learning how to blend the techniques together with Vinyasa Krama

Expanding the range of your classes through incorporating different techniques and making the teaching have huge expanse
4)  Scripture, Philosophy, Ethics, & Lifestyle – 30 hours
Advanced philosophy

A deeper understanding of:

Sutras

Bhagavad Gita

Hatha Yoga Pradipika

Tantras and Agamas

Upanishads
5)  Group Practicum – 12 hours
Class observation

Focus on adjustment

Sequencing

Theme

Music
6)  Small Group Peer Review and Practicum − 17 hours
Classes that you teach in a small group setting to hone your skills

Student teaching

Observing and assisting in classes taught by others

Oral presentation skills
7) Satsang – 55 hours
Satsang combines many of the subjects of the course

Topics include:

Chanting, meditation, japa and mantra, nada yoga and music, community, diet, nutrition, Vedanta

Philosophy and practical skills for conducting Satsang

Questions are answered as part of Satsang
8) Advanced Pranayama Principles and Practice – 10 hours
Advanced principles and theory of pranayama

Practical training in samavritti and visamavritti pranayama

Teaching methods.
9)  Daily self-study – 20 hours
Conscious Journaling

Contemplative questions will be assigned to enhance the student's growth.
10) Seva, homework and self-practice requirements – 60 hours
Seva is done after course completion

A consistent self-practice is essential following the coursework

Students are required to finish homework after the completion of the contact hours. It is to be submitted within 90 days after completing the course.
Cost: US $2,350
US$ 350 required to hold your spot.
FAQ
This training will be delivered via live sessions as well as pre recorded sessions. All live times will be in India Standard time so you will have to figure out the schedule according to your time zone
Consistency is the key. Plan a schedule for yourself and your life situation to include 1-5 hours per day for practice and study.
A link to access the online classroom will be sent in advance which you will use for all online sessions. Each session will be recorded and uploaded onto the online platform immediately after it ends. You have access to these recordings so you can do the course on your own time if you are unable to join live.
Mentor sessions will be held once a week at times to be announced.
Yes. Some live Q&A sessions will be announced after the Course Content has been completed. They will also be recorded and uploaded to the online platform after each session.
All deposits are non-refundable but can be transferred to other upcoming trainings and the deposit will be valid for a lifetime.
You will be awarded a 300-Hour RYT certificate from Sattva Yoga Academy when all requirements have been met.