Sattva Yoga Academy YTT 200, 300 & 500
Connect, Inspire, Transcend.
SYA is one of the premiere yoga academy and consciousness school in the world.
Sattva Yoga Academy (SYA) is registered yoga school with Yoga Alliance, USA.
SYA provides 200 hours Yoga Teacher training , 300 hours Yoga Teacher Training,500 hour Yoga teacher trainings, 85 hours Prenatal Yoga Teacher Training, Master Yoga Teacher Training, 60 hours modules (kriyas, meditation, Ayurveda), and Retreats in Rishikesh , India through its team of dedicated yogic teachers and its founder and master teacher Anand Mehrotra. The programs are designed as a complete and transformational yoga teacher training program for those who desire to go deep into yogic teachings and learn the authentic and sacred teachings form the Himalayan yogic tradition. The teachings and trainings at Sattva Yoga Academy help the yogis to master their spiritual energy, Kundalini and gives tools and specific yoga techniques. The surrounding at the yoga institute are according to yogic lifestyle, so that yoga students can learn yoga and meditation practices easily.
This yoga school covers all the theoretical and practical aspects of yoga. India is the birth place of yoga and Rishikesh is the perfect and natural location where spirituality and yogic philosophy can be explored. Study in Rishikesh, where the Sattva Retreat Center is nestled in the mountains – a nurturing, healing and sacred space allowing you a still space to go deep within. Deepen your self-study in spiritually charged sacred land, in the land of the Rishi's, along Vedic pilgrimage routes.
Sattva Trainings
In the Yoga Teacher Trainings at Sattva Yoga Academy, students learn an integrated approach to yoga that helps them master the teachings in their own life. Then they will be able to teach and share the yogic teachings in varied environments across the world.
Why Sattva Yoga Academy?
The teachings at Sattva Yoga Academy are the most comprehensive approach to yoga in the world today. SYA is the most complete and integrated yoga school in the world that offers 200-hour, 300-hour and 500-hour Yoga Teacher Trainings and so much more.
The teachings are made accessible from beginning to expert level. After the first teacher training, students will have all the tools to instruct complete classes for all different levels of students in different spaces. They will have an established daily yoga practice. All the yoga courses and trainings at Sattva Yoga Academy are designed to enable the students to teach a yoga class and become successful yoga teachers. Not only that, Sattva Yoga Teacher Trainings are about becoming a leader and spiritual guide in today's times, finding the light and the wisdom that will guide one in all dimensions of life.
Many from all around the planet have accomplished their Yoga Teacher Training here. They have had powerful and transformational experiences and have become part of the inspiring and supporting Sangha, the community of Sattva Yogis. Starting from daily yoga practice and meditation and including the 200-hour and 300-hour Yoga Teacher Training programs and the many advanced classes taught at Sattva Yoga Academy, the objective of the offerings is to share an integrated approach to the state, the practice, and the experience of Yoga.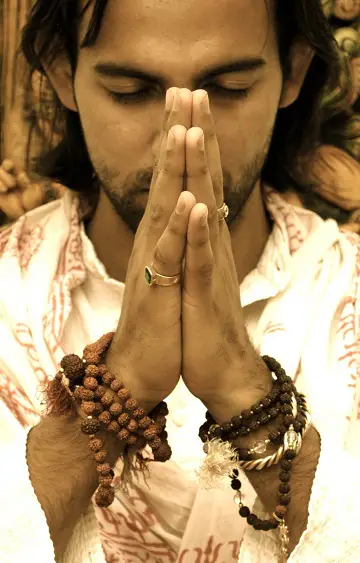 and the evolution of consciousness.
Anand Mehrotra is a world renowned visionary master, evolutionary thought leader, and entrepreneurial and social change trailblazer.
He is the founder and master teacher of Sattva Yoga and Sattva Yoga Academy.
Born and raised in Rishikesh, India – the birthplace of yoga; Anand combines the ancient wisdom of his upbringing with a proactive approach to support the transcendence of the individual and the collective.
Anand teaches around the world giving wisdom talks, offering satsangs and meditations, providing Vedic astrology readings, leading Sattva Yoga classes and trainings , and guiding students through profound transformations in wisdom immersions, retreats, and trainings. Anand teaches at yoga events, conferences, and festivals around the world. He is the "teacher's teacher" with students studying with him from all walks of life including Hollywood celebrities, business leaders, yoga teachers, writers, doctors , lawyers, meditations teachers, designers, students etc .
Sattva Yoga is a journey into the Self.
Course study offers a holistic approach to the study of asanas, pranayama, kriya, wisdom, and free movement – with the aim of creating energetic shifts in the mind, body and spirit. Sattva Yoga Teacher Training Programs are based on not instruction, but transformations, creating a shift in human level.
Sattva Yoga offers 6 teacher-training programs that are unlike any other.
About Sattva
Sattva Yoga is one of the most comprehensive approaches to yoga in the world today. With its roots in the timeless Vedantic and Tantric Traditions, Sattva Yoga was developed in the Himalayas after years of study and research. Sattva Yoga incorporates all essential practices and teachings of yoga in a radically holistic and powerful way. The practice incorporates contemporary evolution in science and mind-body research.
These practices are designed to awaken each practitioner to their true nature. They increase strength, build vitality and create mental clarity. They help raise our consciousness and enable us to live a life full of joy and possibility. From the beginner to an advanced practitioner, Sattva Yoga practices provide a complete and powerful pathway to Self-Mastery and a radically alive life.